SqueakyPete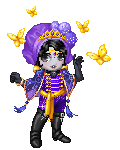 Details
Last Login

10/27/2016 1:05 pm

Total Posts

5023
Occupation

Office b***h

Gender

Male

Birthday

12/31
---
Interests
Favorite Movies/Anime
Favorite TV Shows
Favorite Reads
Favorite Music/Bands
Hobbies/Interests
About
I don't much like my job but it pays the bills.
I'm a boy that likes to wear dresses. I guess that's all you really need to know.
Nothing much left to say. I'm a boring person. If you want to know about me get to know me!

Thank you to Ortinbras, NinjaQtee, Sexual Karma, dolls in stitches, The Blue Spirit, xl Cyanide Candy lx, the Anons and all the wonderful Gaians of Word Games. You're the best!
Signature



I'm back baby. Did you miss me?