Interests
Hobbies/Interests
Equipped List
No items equipped.
About
Spydey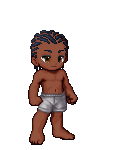 Last Login: 11/03/2007 8:08 am
Registered: 05/01/2004
Gender: Male
Location: In a cozy fairly big box
Journal
Spydey's spinning World
hello everyone this is my daily journal! i will be writing down thoughts in my head and so on... so don't be afraid to comment. they are appreciated!
Signature


We all have a little Kobayashi in us.