Sprainogre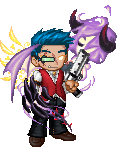 Gender: Male
Location: Castle Black - The Wall
Birthday: 10/04/1979
Occupation: Ranger of the Night's Watch
The Ogre's Gear
The Ogre is Not Yet Satisfied...
Those Things the Ogre Favors
Favorite Movies/Anime
Favorite TV Shows
Favorite Reads
Favorite Music/Bands
Hobbies/Interests
What is this Ogre all About?
I'm just here to hang out, post a little, and kill time.
At this point I'm two years done with Law School, and one more to go. Trying to find some legal work, and stay sane while doing it.
It has been REALLY weird to be back in school, but so far so good I suppose.
And that's your update!

Ogre's Random Stuff...
Night gathers, and now my watch begins. It shall not end until my death. I shall take no wife, hold no lands, father no children. I shall wear no crowns and win no glory. I shall live and die at my post. I am the sword in the darkness. I am the watcher on the walls. I am the fire that burns against the cold, the light that brings the dawn, the horn that wakes the sleepers, the shield that guards the realms of men. I pledge my life and honor to the Night's Watch, for this night and all the nights to come.

-The Oath of the Night's Watch.
Signature
A judge is a law student who marks his own examination papers.
-HL Mencken

It is our responsibilities, not ourselves, that we should take seriously.
-Peter Ustinov