Badges
You don't have any badges!
You can acquire badges by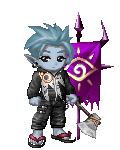 Location: Illinois
Birthday: 12/19
Occupation: Juggalo
Equipped List
Interest Tags
Favorite Movies/Anime
Favorite TV Shows
Favorite Reads
Favorite Music/Bands
Hobbies/Interests
Wish List
Currently in gamers guil:official
About
I am a juggalo and I am willing to meet others juggalos. if I don't find any others I will still swing my hatchet proudly.
Signature