Spes ver eternus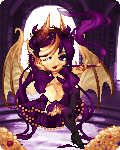 Details
Member Since

05/05/2007
Occupation

Zombie pirate.

Gender

Female

Birthday

02/09/1994
---
Interests
About
Links to journal:
[[AVATAR ARCHIVE]]
[[ARTS]]
[[DONORS]]
[[REST OF JOURNAL]]
for those who hate reading:
TL;DR: I'm Spes, I'm a girl, I'm 19. I live in Florida and I like pirates and zombies and MLP. My PMs and comments are always open if you need something.
and for those who like to read:
Hi! I'm Spes, but I can go by almost any name as long as I know you're referring to me. My real name is Amanda, but I can roll with
almost
whatever. I live in Florida on the coast, but I don't like the beach. My username is Latin and translates out to "Hope springs eternal." My birthday is in February on the 9th. My Gaiaversary is on May 5th. I joined this place in 2007 and never left. Sometimes I get bored around here, but always come back at some point.
I play League of Legends, Perfect World International, Tera, Aion, Minecraft, and Vindictus.
Profile design:
designed by myself.
The art featured is NOT avatar art, it was a piece of fan art of Odin Sphere's Gwendolyn. Gwendolyn being my favorite character I wanted to base a profile around that particular piece. The original is linked below.
Gwendolyn art courtesy of-
Click
Ivy circle stock courtesy of-
Click
Friends
Viewing 12 of 70 friends
Journal
Herp derp
various things will be kept here.
Signature

PM/Comment if you're wondering what I'm wearing. c: