Sparx539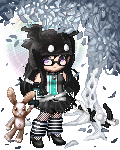 Last Login: 11/12/2013 9:34 pm
Registered: 12/06/2004
Gender: Female
Location: US of A
Birthday: 07/21
Occupation: Student/artist
Equipped List
Interest Tags
Favorite Movies/Anime
Favorite TV Shows
Favorite Reads
Favorite Music/Bands
Hobbies/Interests
Wish List
About
23yo, an oldbie Gaian, theatre education major, who is terrible at these things.

Drop a PM instead, will ya?
My Aquarium
Journal
The Gaia Journal *dun, dun, DUN*
Yeah, seeing as how my actual blog is on my WWW, this'll be for Gaia-related-ness. Like, my guild stuffus, my RP stuffus, or any wishlists/quests I'm on.
Signature
"Perhaps they were right in putting love into books...perhaps it could not live anywhere else."


23/F
I like random PM's. :3
<3