About
Silly Me.
Howdy Ya'll!

My name is Kayleigh, or you can just call me Candy. I live in the great state of Texas and I'm your typical Sassy Southerner. No I do not ride a horse to school.
I have an amazing boyfriend who I love and I'd do anything for.
I love to write, draw, paint, and sing [but I'm not so good at the last one].
I listen to just about any type of music and love hearing new stuff. If you have a suggestion hit me up! My favorite bands of all time are: Breaking Benjamin, Barcelona, The Hush Sound, My Chemical Romance, Sparklehorse, and The Civil Wars.
I love rping, and my favorites are horror/mystery and I absolutely love Superhero based rp's. If you think I'd be interested feel free to send me a link. I'm not online all the time cause I'm a busy busy lady, but I do my best to keep up.
I'll talk to just about anyone as long as you're not a total creep or something. My sense of humor is a bit off, so I hope you can handle it. I'm open minded, and non judgmental about anything. If you're a nice person I'll like you, I don't care what race, sexuality, or whatever else that might be specific to you. :]
I'm an athiest. If you don't like that then I'm sorry [but not really], and just move along. I respect other people's religions, and people should respect my lack of one.
I don't watch a lot of television, but I love movies. Horror movies are awesome, and I like weird unusual plots.

I love getting Avi Art, especially the free kind. ; D
Also, any donations are greatly appreciated. I'm a Gold Digger. But not really... :/


If you have any questions, concerns, or just want to talk message me :]
But please, don't beg me for donations and such. -____- I only donate every once and while, and only to people I really like or who I think deserve it.
Awesome Avi Art :] By Sayud

Super Pretty Avi Art By Extra Fancy V sama
Adorable Avi Art By The Phantom of the Knight
Avi Art From The Octonaut
Super Duper Cute and Wonderful Art from Syn2!!!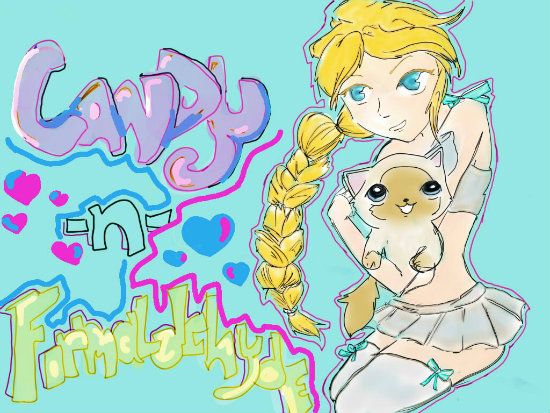 Friends
Viewing 12 of 192 friends
Journal
The days in my stupid life.
Ever wonder what happens in the life of some random girl? Or what happens when lips get stuck in doors? Well get ready cause you're about to find out. Sound interesting? Well it is, just read my friggin life!
this is a journal what more can I say?
Signature
I'm Kayleigh, or Candy.
I'm Atheist
I like random PM's
I do avi art sometimes if I feel like it.