Soul Born Sin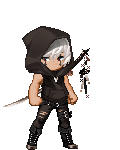 Last Login: 05/12/2016 9:12 pm
Registered: 03/11/2012
Gender: Male
Birthday: 05/01/1995
Equipped List
Interest Tags
Favorite Movies/Anime
Favorite TV Shows
Favorite Reads
Favorite Music/Bands
Hobbies/Interests
Wish List
My name

is personal.

But

you can call me Mason until further notice.

If

you

are here reading my profile it means you have either caught interest in my avi.



or you are a fellow stalker.



Hello Stalker.



To feed your curiousity

, I will tell you some simple things about me.



I love

the mysterious things in the world, and can spend several hours at a time talking about them.



My favorite

colors are red and black, and my favorite number is 33.
The number 3 has played a prominant role in my life, and I didnt notice it until very recently.



I love

to write music, poetry, game, and skype, you should call me some time if you like to just talk away the hours, minutes and days.


my skype: typhoon3343 Kik: SoulBornSin





I am

20, turning 21 May first 2016.



I am

one of the most understanding people in the world, I am a psychology and biology honors student from NWSCC and have been attending college since I was 16 years of age.

So if

YOU

ever need someone to talk to, cry on, or just need someones opinion,

I am here for you.

Reach out to me either in a pm, or

my KIK: SoulBornSin





Always know your not alone in this world.
Journal
My music lyrics
I write allot of stuff but mostly I write music I am planning on posting as much of my music as I can.
Signature