Equipped List
Interest Tags
Favorite Movies/Anime
Favorite TV Shows
Favorite Reads
Favorite Music/Bands
Hobbies/Interests
Wish List
Signature
Yes I am male irl. Yes I know my avatar is a lady. No I don't want to be a woman, I just like to dress up as one now and then. You may now leave
Sorceress Seren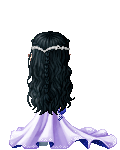 Registered: 07/08/2008
Gender: Female
Birthday: 05/02/1995
About
I am very, uh, different. I'm a bit on the crazy side and I may seem like I have different personalities at times. I like ice and water, and I am a cat person. As long as your not a jerk to me I won't ignore you. Also no religious stuff, as long as those don't get mixed in anywhere we may be good friends. I like symphonic metal and very few rock and pop songs. Sorry, no country. I'm also, more recently, liking more mainstream music. Katy Perry more then anything. She's epic.
Seren is a goddess I made up in mythology, who's the creator of the elves and all of the nice goody stuff.

And finally, I LOVE WATER, mer-folk, water nymphs, fish dolphins, sharks, and my greatest fantasy would be able to swim underwater with no special gear.