♫soralovezaerthex♫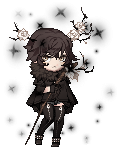 Last Login: 08/19/2014 12:59 pm
Registered: 01/18/2008
Gender: Female
Birthday: 12/28
Occupation: Organization XIII
♫the things i love♫
Favorite Movies/Anime
Favorite TV Shows
Favorite Reads
Favorite Music/Bands
Hobbies/Interests
♫tis me Aerthex♫

~*Soralovezaerthex*~
Hello there~ The name's Soralovezaerthex, but call me Sora. So I see you have stumbled across my page, well thank you for looking. I'd like to state that I'm a huge rper, so if you have any, tell me about them, I love something new, and I'll definitely try to keep up. I also have a love for rpg games especially Kingdom Hearts and Final Fantasy. I've recently gotten into Assassin's Creed, and it's quite amazing. I'm not a single girly, just saying, I'm actually quite infatuated with who I'm with as of the time. He is just wonderful, and I don't ever plan on losing him. Well, I really can't think of much else to say...Here's some little things then C:
Likes~
-Kingdom Hearts<3
-My boyfriend<3
-My best friends
-Final Fantasy<3
-The World Ends With You<3
-Assassin's Creed<3
-Devil May Cry
-Foxes
-Rping
-Strawberries
-Ninjas
-Drawing
-Three Days Grace<3
-Sleeping With Sirens<3
-Pierce the Veil
-Dead Space<3
-Pokemon
-Soulcalibur

Dislikes~
-My brother (at times)
-Rap
-People who think they're better than the rest
-The many people who hate on KH 'cause it's "childish"
-My last two ex's
-My phone (it's mean)

Thanks for you're time!




Dream Avi:



Total Value: 1,070,439 Gold
[Item Information]

Item List:
Gift Box
Keytarblade
Sickly Triplet
Black Fishnet Stockings
Jubilant Flight
August Birthstone Anklets
Serene Green
Foxy Flag Gal
Stubborn Cryptodira

♫don't say i didn't warn ya♫
Pokemon White2


~Message me if you wanna battle~
♫The stuff i like to wear♫
♫The random stuff i really want♫