Song_of_fire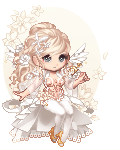 Details
Total Posts

17137

Posts Per Day

4.93

Member Since

02/25/2006
Location

Aoteroa

Gender

Female

Website
---
Interests
Favorite Movies/Anime
Favorite TV Shows
Favorite Reads
Favorite Music/Bands
About
Greetings.
I'm a nice person really, bit random and obsessive but nice nonetheless.
I get worked up about anime, writing, reading, politics and some other stuff. Assume the rest by looking at my interests or by talking to me.
If you're here because I bought something from your shop, please don't leave a comment. Especially if it's a common. (Also, I got my profile code from tektek.)
People who I will love forever because they donated to me at some time in the past:

ST3, Ame, Ralf Jones, Sarma_Vassendian, Runaway Roadkill, Cuane, Ivory Eyelet, Gawd uv Rawk, pseudopathogen, Put The Sun Into The Sea
and five darling anons.
I'm a:

Journal
Ack! Tuberculosis!
Mostly a worklog to store stuff I need to refer to while on gaia.
Signature
questing for a glacia's journey
30, 000, 000, 000
// LMP
all donations, tips & booty grabs appreciated