Soldier of Song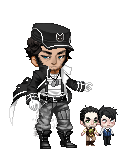 Details
Total Posts

25954

Posts Per Day

8.42

Member Since

08/10/2008
Location

Southern California

Occupation

Archivist / Blueprinter

Gender

Male

Birthday

09/08
---
Interests
Favorite Movies/Anime
Favorite Reads
Favorite Music/Bands
Hobbies/Interests
About


Sorry to all my friends I've slowly lost contact with.
I'm not around near as much as I'd like to be nowadays.
I think about everyone often. I'm making attempts to stay online.
Thank you for your patience, past and present.
Sometimes illness gets the better of me.



Note:

If I ever donate to you/gift you out of the blue/pay more than necessary,
please don't feel like you owe me. I just like giving people things.
Friends
Viewing 12 of 40 friends
Journal
I used to RP
I had characters and everything
Signature
semi-hiatus