About




Proud Mommy showing off her child.




Update on life in general.


GOOD GRIEF

I have been away for a good while.
Life keeps one busy.


Still

Married and Happy.
Money is tight, but we are managing to scrape by.
We got a new car, so I get to sit up front like a big girl once again,

Whee!


We had to replace the water-heater.


Still don't have my scanner up and running. (sigh)
My baby girl is now 3 and potty-training.


Well that is a very brief update of events.



Socks.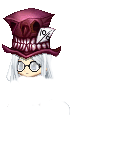 Hope all is well with my Gaia friends and Family.
Love from me, mwa.<3






by xaiisu




Friends
Viewing 12 of 36 friends
Journal
Random Thoughts and Such
Boogers are Tasty Treats
Whatever I feel like putting in here
Multimedia
Signature
Saving up 574k/1m
Wish me luck!
Will take your unwanted junk/starter clothes