Snow Wonder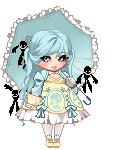 Birthday: 12/26
Equipped List
Wish List
Me .-.

Hi I'm Snow


I like to talk to people and RP but I'm not really good at starting convos.


I like LoL, books, anime,almost all bugs and animals and musicals.


I am 17 years of age.


I am currently attending college.


I want to be a Theater teacher and a History teacher.


I like to talk to new people so if you want to talk just Pm me!!!!