About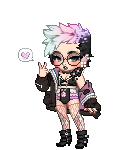 Oh hey. Welcome to my profle. I'm Slynka, or just Sly.
Been on Gaia since '05, which is too long; but hey, gotta kill time somehow.
Anyway, I'm an artist. I rarely take commissions, but feel free to PM me with a bribe.
I'm usually found in the CB or the Exchange, lurkin and creepin, the usual.
I'm bad at writing these so that's all I got. Peace
-23-
-female-
-taken-
-my
face
-
Friends
Viewing 12 of 94 friends
Journal
Sly's Journal
This is pretty much where I'll keep my artsies posted. Feel free to take a peek. ;D
Multimedia