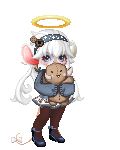 Registered: 04/09/2004
Birthday: 01/16/1989
Well hello there and welcome to my profile.
I'm 25 years old and am Danny Phantom and Fairy obsessed.
~Click here to leave me a Comment~

I have Tumblr blogs.

~My RP Blog~
~My Personal Blog~

You can catch me on recolor.me as Sleep Isabella and Ghostly Pink Isa too.