Slats Slats Slats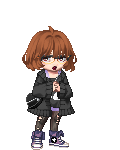 Details
Last Login

09/07/2015 9:30 pm

Member Since

07/05/2013
Gender

Female

Birthday

10/02
---
Interests
Favorite Movies/Anime
Favorite TV Shows
Favorite Reads
Favorite Music/Bands
Hobbies/Interests
About
I'm Viviana.
I live in California, US.
Most people say I laugh at the smallest things, but I guess I'm just observant!
I read shoujo manga more than I watch anime.
I have a twin sister btw. We have basically everything in common.
I believe I can be caring and generous to those who are kind to me.
I respect everyone's music choice, but don't flaunt your favorite songs at me pls.
Bye bye!
Signature
How it feels to like someone you met online.