Skyeborne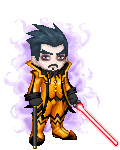 Gender: Male
Location: A Galaxy Far, Far Away...
Birthday: 01/22/1988
Equipped List
Interest Tags
Favorite Movies/Anime
Favorite TV Shows
Favorite Reads
Favorite Music/Bands
Hobbies/Interests
Wish List
About
I am the spark of joy within every human being. I am the light of hope that stands against the darkness. I am a bright star in the void. I am Skyeborne.

I am arrogance. My ego knows no bounds. I live my life as I please, often not thinking of how it affects others. I am a sinner and I know it, but still sin. I am Skyeborne.

I am a man. I am weak, and I am strong. Upon my back I bear huge mountains, and I cannot bear the burden of a twig. I can defeat armies, but cannot conquer myself. I am a ruler of my world, and a slave to it. I am Skyeborne.

I am a servant of God, and yet I often stray from his teachings. I am a dreamer, and yet I often squash the dreams of others. I am a saint, yet still I sin. I am Skyeborne.

I am a saint, a sinner, a writer, a singer, a servant, a slave, a king, a man, a son, a brother, a student, a teacher, an actor, a critic, a murderer, a victim, a philosopher, a dreamer, and a walking contradiction. I am Skyeborne.


Journal
Eccentricity
The Meaning of Life, the Universe, and Everything... ...42.
Signature


"For my ally is the Force, and a powerful ally it is."