Welcome to My Profile!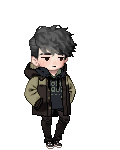 Gender: Male
Birthday: 08/02
About Me!
.. The name is Jun, I'm a FILIPINO, I'm a Lazy person ... so please don't expect allot from me, I stare at, or you could say observe people allot, I'm kind, I can be interesting sometimes(in a weird mannered way), I'm a fellow OTAKU so.. don't be afraid to talk to me about anime, maybe we can both relate in our own certain way, I don't know what's going on inside my head so don't ask, I am also a COOKIE addict, so give me COOKIES!, aand I am also a GAMER, I like to play online games especially the 3rd person RPG games, I also like to read MANGA, it's one of my hobbies, I watch ANIME allot, I eat and sleep allot but heck ! enough about me if you want to know me more don't be afraid to PM me, I won't bite ... I swear .. (crosses fingers), anyways that's all i can tell you for now . .


P.S. I accept donations please help me with my "DREAM AVI"