About
Hewo ( • w •) my name is Liz.
Tattoos, anime, deadpool, piercings, Ireland, art, lady death, elder scrolls, and music pretty much sum me up.
Did I say tattoos? Love them. 13 so far.
I live in a quaint apartment with my dog, my 2 bearded dragons, & some nice shrubbery.
My dog's name is Joker & my dragons are Hohenheim & Izumi.


Fullmetal Alchemist is my life. Just saying.
I'm 23 years of age & have been making accounts on here since 2006.
I probably have stalked you in my past visits.
I'm a 4th year student at a quaint little university.
I'm double majoring in criminal justice & network security, yo.
I was Batman in a past life.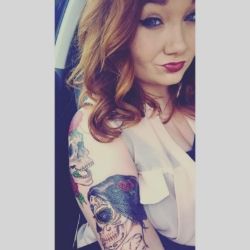 Multimedia