Sinshipper Genesis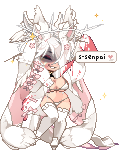 Details
Last Login

10/19/2017 6:25 pm

Total Posts

10355

Posts Per Day

3.62

Member Since

12/17/2009
Gender

Female

Birthday

12/27
---
Interests
About
Hello, Genesis (female) and Raziel (male) here

I'm bigender, pansexual, semi short, half-asian, loves cats, and have been role playing for more than half my life.

I'm happily taken by my perfect half. He's amazing in every way.

I'm primarily on Skype, Discord, and Line but you can message me on Gaia as well (I just don't check as often).

Please quote for faster replies.

I make layouts and stuff so don't be scared to ask. c:

I'm also a giant dork, sin shipper, and easy to talk to.


Friends
Viewing 12 of 52 friends
Signature
Skype: xxiigenesisiixx
Discord: 라자엘#4122
Literate to Advanced Literate Roleplayer.
Rykushiba is my kouhai
Formerly known as XxIIGenesisIIxX
Kingdom Hearts Trash
Work Schedule:
Tuesday-Saturdays 10:30pm-7:00am (US Central Time)
Off days: Sunday/Monday