Sinful Skitty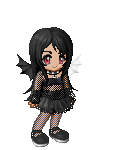 Last Login: 10/25/2016 6:24 pm
Gender: Female
Signature
Hi I'm Sin! Searching for 1x1 Role plays all the time. PM if interested! I'm mostly on Facebook now, PM me...
Questing: Three of Inari's Revival: Ketsueki (Please PM me if you wish to sell them, I will buy them at LBNP in MP)
Avatar Art.
About
Welcome to my profile!
Name: I might tell you if you ask nicely.
Nicknames: Rima, older friends know me as Luna even older friends know me as Shina, Sin, Skittles, Skitty
Age: 25
Birthday: February 17th (Oct 31 is one of my characters bdays)
Status: Single
State: Texas

Due to a recent creep (I will not go into detail about), I will only add people who I've talked too, so if you think we should be friends then send me a PM or comment and we'll talk for a bit before I send you a friends request. I'm not dealing with no creepy stalker crap again. Its a pain in the butt.

I used to have a gaian family and would love to start another since my old one isn't around anymore.
Likes:


Netflix
Disney
Video Games
Anime/Manga
Avi Art
Role Playing
Random Pms
Random Adds
Writing
Music (It's life)
Nightcore(Nightcore'd songs even, makes rap better to me lmao)
Rinmarugames
Dolldivine (Doll dress up games)



Favorite Games:


Fire Emblem
Legend Of Zelda
Mario Kart 8
Mario Party 8, 9, 10
Super Smash Bros



Favorite Anime and Movies:


Code Geass
Spice and Wolf
Fairy Tail
Soul Eater
Fruits Basket
Log Horizon
Clannad
Trigun
G.Grey-Man
Beauty and the Beast
Aladdin
Tangled
Frozen
Tinker Bell Movies
Princess Mononoke
Spirited Away
Howl's Moving Castle
Castle in the Sky



Dislikes:


Spammers in towns2/in general (Will ignore, no reason for it)
Idiots and beggers

Questing: Always questing avatar art.
Items really wanted: Inari's Revival: Ketsueki (3 of them), Provoked Punch Bunny, Intelligent Interstellar Invaders, Hey Don't Call Me That, Modern Crafty Punk, Deadly Conniver M, Vicious Crimson Lil Kitty

Always people watching in Towns2, I love random PMs as well as random commentsslate and random adds (Please be sure to send me a PM saying hi in doing so.)

Kik: Ask me for it after we have talked for a few days...
FaceBook: Ask me for it...
Skype: Ask me for it...
Please let me know that you added me or are about to, so I know who you are.

Sweet Dreams That will Never Come True