SilverTetsusaiga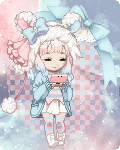 Registered: 10/12/2007
Gender: Female
Location: Ohio, United States
Birthday: 09/23/1991
Occupation: Artist, Jewelry Designer, Shop Owner, CSS Coder (Novice), amongst other things.
Biography


Hello there !!
My name is Silver, and welcome to my profile !!
Feel free to leave a comment or send me a private message, I don't bite !!
Anywho, for the most part you can find out the things I like from the interests section of my profile, however there are a few things that you won't find there.
So without further adieu, here is a few fun facts about me:
☆ I'm happily taken by Shin Seven X and enjoy getting to be with him in real life.
☆ I'm 23.
☆ I'm a huge Swat Kats fan.
☆ I have a 3DS and I play Animal Crossing: New Leaf & Pokemon X.
☆ I code my own profile to make it look pretty. :3
☆ I make simple graphics and animations at times.
I can't think of anything else to add here, but if I do, I'll add it later on. >w<
Also, I'm a bit tired of everyone asking this, so I'm gonna put it here. Yes, part of my user name is in reference to the anime InuYasha. Silver is my nickname, both on and offline and Tetsusaiga is in reference to InuYasha's sword.
Currently I have friend requests blocked due to having gotten so many random ones. If you want to be friends, you'll have had to talk to me for a while before I'll send you an invite. Sorry if this is an inconvenience but I don't have the patience to deal with a billion random requests from people I've never talked to.
Also, please
do not post
chain mail comments. I find them annoying and they make my comments look trashy. If you post one to my profile, I will promptly delete and post a comment on your profile kindly reminding you not to post chain mail comments to my profile. This also goes for chain mail private messages too.
Thank you for visiting my profile !!
~Silver