Custom
Custom
Custom
Sillychuu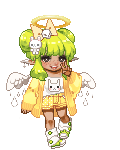 About
It's nice to meet you! I'm Silly.

I'm a high school senior in Washington. I like cute things, I play 2 musical instruments, and I run in my free time.

My favorite color varies, but black and white is always one of my favorite color schemes.

I try to be nice to everyone I meet! It's the polite thing to do.

The gorgeous art to your right was made by the ultra-talented

[Muffin]

. ♥

Thanks for visiting!