Other Things About Me
Sexuality

: Bisexual (leading more towards women)

If I could use any type of magic, I would be a healer.

I love helping people.

I'm in college to be a middle school teacher.

I like heartfelt quotes and things said to me.



I promise I'm a nice person on the inside, just get to know me.



Saddest things EVER

:

1. People causing harm to children, whether it be physical mental, or emotional.

2. CLANNAD

3. To the Moon

4. Eternal Sonata

5. I guess I have to throw in there the people that die of starvation every day, but hey, I'm American.



6. Politics/Religion (this should be higher up on the list)



Favorite Characters





Aqua (KH:BBS)



Xion (KH:365/2 Days)

Johnny/River (To the Moon)




Alphonse Elric (FMA)



Yuna (FFX)

About
Name: Maranda

Age: 18 (soon to be 19)

Gender: Female

"Religion": Atheism

Political party: More moderate than anything, leaning slightly right

Likes: Video games, shopping, swimming (as a leisure activity), chilling

Dislikes: Fake people, people who can't be serious at any time, harm caused to innocents, sometimes society.





I love random PMs.

Sil3ntxR3qui3m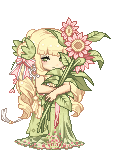 Gender: Female