Shoren The Forgotten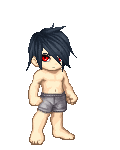 Birthday: 09/09
Equipped List
No items equipped.
Interest Tags
Favorite Movies/Anime
Favorite TV Shows
Favorite Reads
Favorite Music/Bands
Hobbies/Interests
Wish List
My role play character :D
Name: Shoren Vincent Vareld Harr Ambrose Shinra
Alias: Fang, Wolf, and Devil Blade
Date of birth: disclosed
Age: 27 in repentance but is actually well over 1000 as he has been sustained in cryogenic slumber many times over the course of the world
Height: 6 foot 3 inches, 6 foot 6 inches in armor
Weight: 182 pounds, 246 pounds in armor
Skin color: white
Eye color: left eye green right eye is brown
Hair color: black
Prominent Features: Eye coloring, tattoos, Crucifix scars on the palms of his hands, and a scar going down the side of his face.
Sex: male

Weapons:
Primary: H &k G36
Rounds: 100 round drum magazine with 15 extra clips
Cameo: pure black with dark red decals
Attachments: Folding stock, 3 times zoom scope, back up iron sights, semi auto and full auto, gas operated that was modified to prevent firing errors, a flash suppressor, under barrel grenade launcher that fires 40mm high explosive depleted uranium rounds. The gun also comes with hollow diamond tipped high explosive rounds, swarm bore auto targeting 20mm drills, salvo's (grenade from the launcher that separates into 100 4.73mm depleted uranium diamond tipped incendiary rounds). Also fires poison injecting narrow tipped Botulinum rounds (Botulinum is deadly to the average 90kg or 200 lb man at just 90 nano-grams). The firing speed has been doubled through modifications and can fire 4500 rounds a minute.

Side Arms: Two Smith & Wesson Model 500 Magnums
Rounds: 12 round revolvers 20 extra clips
.500 S &W rounds, diamond tipped high explosive rounds.
Attachments: Auto chambering, self loading, can fire 950 rounds a minute. Upgraded red dot sights and under over dual barrels that can fire at the same time.

Specials/Equipment: c4 x 10, highly explosive and radioactive, .002 second waiting period before detonation. He keeps 20 throwing knives hidden inside of his clothing, and a back up 6 foot 5 inch Damascus steel sharpened diamond edged zweinhander with a built in liquid reserve for a special mixture that explodes with sudden increase of pressure. for close combat. Carries 4 frag grenades, 2 sticky, 3 flash and 1 concussion grenade. He wears a modified version of the seals helmet with a silicon alloy visor that can stop a blast from a grenade point blank; it's also bullet and fire proof. It has a built in HUD that displays information and helps with targeting that's smart linked to the scope on his G36. He wears a titanium Damascus steel alloy chest plate with built in energy shields. The shields can withstand insane amounts of damage and recharge in half a minute, and slight static sound goes off when doing so with visible electric currents going around him when recharging. An unknown material covers his left arm and can deflect any knife or bullet below a .50 caliber high explosive round. Fingerless gloves made of the same material that covers his arms with metal bands around them that are needed to activate the armor. Titanium Damascus steel alloy leg guards and boots protect his legs and also give him sure footing in any situation since they use gravitons to anchor his feet to the ground when not moving. He has several pouches and belts to hold ammunition, grenades, and other things when not in use. Under his armor he wears a living metal suit, it's made of trillions of nano bots that regulate temperature augment the shields, and deflect bullets. He often has Phenomenon by Thousand Foot Krutch or Citizen Soldier by Three Doors Down playing while in combat.

Past Occupations: Member of the seal fire team Charlie and fire team Echo, former head scientist for seals fire team Echo. Former zero sniper and DHG major.

Current Occupation: Leader of the Metal Head Mercenaries

Personality/Abilities: Tends to not care about anything but fighting. Easily loses interest in quiet, immobile activities. When his interest in captured by something he must dismantle it and put it back together multiple times. An avid reader and swordsmen he takes them both very seriously and will snap at a moment's notice if someone disrespects either subject. Never one to be caught by surprise he will drop several micro cameras in strategic positions to keep one step ahead of his enemies. Likes metal and always has it blaring even in the heat of combat, it's basically made him immune to sound based attack since he's become accustomed to loud sounds. Very intelligent, strength is borderline inhuman, and can run 22.4 miles an hour in full armor. Very agile, tends to exaggerate his movements to catch opponents off guard. Will switch from a stab to a slash then a back hand off of a side step spin and then bring his sword down in a terribly powerful downward slash, often making the floor collapse. Extremely fast reflex's, has been known to literally dodge bullets at long distances due to his cybernetic eyes that let him see things that normal humans can't. He can turn a scrap of metal and wires into a walking bomb in only a few minutes, can hack terminals, cameras, and enemy equipment with ease.
Signature

The Metal Head Mercenaries, We Fight Like Daemons