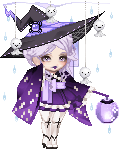 Last Login: 05/19/2013 12:30 pm
Gender: Female
Birthday: 10/20
About
Uhm.. I'm Shiroi Hana-chi. My [user]name means White Flower. The chi part is just random.
Shiroi Hana originally came from my favorite anime character, Toshiro. SHIRO and SHIROI both mean White.
Music is my thing. Generally K-Pop. (EXO and B.A.P biased.)
I'm Asian. Chinese & Vietnamese.
I love to draw. I've been interested in art since fourth grade.
I like anime also. I've been watching Devil Survivor the Animation lately.
I'm a bubbly girl. Short tempered. Hyper mostly.
Always smiling, positive.
I'm very fun.
I don't care what you call me.
Whether it's Shiroi, Roi, Hana,or Chi.
Uh... I'm also dating somebody in real life. His name is Isaac and he's really sweet.
Yup, Yup.