Shinmetorii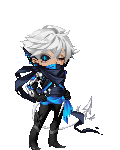 About

Click here to view my avi art!

Thank you, Gaia, for featuring my avi here for the week of 9/4/12!

Hello, I'm Kit, formerly known as Shinmetorii. Which is why that's still there in my profile layout, heheh. I've been on Gaia since 2006 on various accounts and with countless usernames.



The person behind the avi:





• So, I'm a girl,

but I often have a male avi, and I prefer getting male avi art huhuhu. *u*



• I'm currently 21 years old.

I know I don't really look it. OTL



• I'm Korean

but very Americanized, as I was born in Korea yet raised in the U.S. If you try to speak to me in another language other than English, I probably won't understand you. xD



Likes:


I like playing the piano and cello, singing, writing, reading books and fanfiction, drawing, watching anime, and playing video games.
I love music (I really don't think I could live without my iPod!). Nowadays I mainly listen to Japanese and Korean music, rock and electronic, video game soundtracks, and Vocaloid songs.
I have a thing for long-haired pretty boys and androgynous girls~ And hats. I also like hats.
I love rice, noodles, tea, and anything sugary. I'm very lazy and I eat way too much, which always makes me wonder how I'm not extremely overweight by now. .___.;



Dislikes:


I dislike rude, stuck-up people, loneliness, cigarette smoke and fumes, work, facial hair (with some exceptions), and a ton of other things that I'm too lazy to type out.
Feel free to stop by and comment/PM me~ I do like actually talking to people before I add them, so no random friend requests, please.

Want to draw me? Just PM/comment me about it. I'm always looking for more nice avi art!

---------------------


Many thanks to these kind donators:


• JokaNeko - 25k!
• w0nd3r_k - Biancamella!!
• I Cross l - Cerynitian's Blessing and SDPlus Pale Marionette Doll?! Thank you so, so, sooooo much!
Multimedia