About
1. I hate when people switch around upper and lower case letters...like i just did.
2. I'm strange but ya gotta love me

3. Blue eyes, light brown or dark blonde hair.
4. I try to talk like I have an education but it's just so fun not to XD.
5. I like to think that straight A's is a good thing.
6. I have all types of friends...ALL types

7. If it involves adventure, going to new places, things that might terrify me, or just all around adrenaline rushes, I'm in

8.<----It's a symmetrical number!!! LOL Do you know where that is from? Do you?
9. My real name is Jessica, in case you hadn't already figured that out.
10. I hate public speaking >.>( I'm shy)

11. My favorite emote for gaia is

and just all around one is (☞゚ヮ゚)☞ or ಠ‿ಠ( that one's just funny) lol
12. Probably a little ocd lol about cleanliness and I refuse to end the about me's with an odd number ヽ(`Д´)ノ so I'll wrap it up now :3
Friends
Viewing 12 of 147 friends
Signature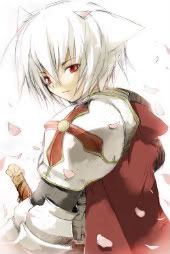 I've Adopted a Neko!~
Gender:Male
Name:Chrona
Age:509
Birthday:October 13
Likes: the dark, the color red, shinigami, training
Dislikes:dull days, people guessing his age, having his skill and knowlege doubted
Owner:Shinigami Jessica Chan
Adopt Your Own Neko Too!~