Sheliah - Seer of Souls House
One Heart
In the darkness I shall forever walk alone, for it is only one lonely heart that I can carry,
Interests
Favorite Movies/Anime
Favorite TV Shows
Favorite Reads
Favorite Music/Bands
Hobbies/Interests
sheliah_922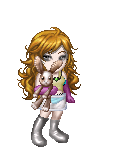 Registered: 11/18/2006
Gender: Female
Birthday: 09/22
Equipped List
My Aquarium
About Me
Well . . . about me . . . let's see!? I got my name from J.R.R. Tolkins book, Silmarilion. I have a big fascination anything to do with mediaeval times. I am not new to Gaia but I'm very shy. So if you see me around please talk to me. I am not very computer literate so I might ask some dumb questions so bare with me. I have a collection of over 20,000 stickers and I cherish LilBit, my siamese cat more than life itself. She is 17 years old and spoiled rotten.
My Car
Signature

I believe in Jesus Christ, my Lord and Savior. If you do too and aren't afraid to admit it, then copy and paste this in your signature.