Sheek Reiji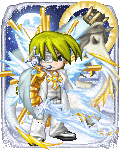 Last Login: 04/18/2014 10:09 am
Registered: 03/06/2007
Gender: Male
Location: Heart's Desire, NL
Custom
Journal
Sheek Reiji's Profile Archive
This is an archive of all my roleplaying profiles that I currently use, and have used in the past. Profiles marked with (Tribute) are characters based off a character from another series and are used for mock fights for fun.
Equipped List
Forums
Posts per Day: 1.57
Total Posts: 4335
About Me
My name's David, I'm 18 years old, graduated and waiting till September for college. I live in Newfoundland, Canada, in a town called Heart's Desire. I'm into anime/manga and am a huge fan of Metallica and other metal groups (Megadeth, Ozzy, etc).

I run a roleplaying guild by the name of Naruto: Way of the Shinobi, and you can find me there whenever I'm online.

Interests
Favorite Movies/Anime
Favorite Reads
Favorite Music/Bands
Hobbies/Interests
Signature