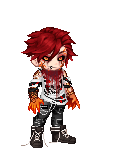 Last Login: 11/29/2015 8:19 pm
Registered: 04/21/2014
Gender: Male
Location: Right Behind You
Birthday: 06/11
Occupation: Professional Time Waster
About
Hey Everybody! I am a super nerdy guy named Tait. I am 19 years old. I just recently started role playing, so I don't really know what I'm doing, but I enjoy it. A large majority of my life is devoted to video games. I absolutely Love Kingdom Hearts, The Legend of Zelda, Mass Effect, Metal Gear Solid, Final Fantasy and Pokemon! In the past few years, I started getting into anime. I haven't seen a ton, but I have seen Fulmetal Alchemist, D-Gray Man (at least what is in English), Yu Yu Hakusho and of course Pokemon. The most important people in my life are my best friend and her family. They are more supportive than my own family and for that I love each and every one of them.
I absolutely love music! I can listen to just about anything. I can't stand country and the new-age pop autotune rap "music." My absolute favorite bands are My Chemical Romance, Memphis May Fire, Fallout Boy and Panic! At the Disco. As far as genres go, I love Punk, Alternative, Metal, Dubstep, Hardstyle and Jumpstyle.
I also Love Tattoos! I currently have two, but I plan on getting many more!
Wish List
Equipped List