Shampoo-chan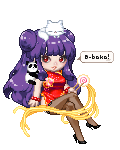 Details
Member Since

10/27/2003
Gender

Female
---
Interests
Favorite Movies/Anime
Hobbies/Interests
About
+++




+++

Hello! My name is Shampoo.
I live in Hawaii, but I'm currently in South America.
Been on Gaia since high school.
It used to be my second home here,
but I don't get to come online as much as before.

+++



Only things you need to know



Taken
Artist
Geek

+++

Oh, and I'm kinda pervy. xD

+++





One of my many art styles



+++

Don't ask me for donations, because I worked hard for my items,
and lost many as well. I've been hacked once,
which was the most horrible experience of my Gaian life.
I didn't ask for a single donation even during that time,
so suck it up and work for your s**t.

+++

I dislike people who contact me with profiles set to

private

or PMs set to

friends only

. You suck.
Please no random friend requests. I prefer knowing the people in my friendlist.

+++

your love fills me with joy
& hope that I wish to share.
your hate fills me with sorrow
& turns that destructiveness inward.
I do not perpetuate hate, only love...
Signature
I

♥

drawing & tipping posts