House
Shadow Nightkin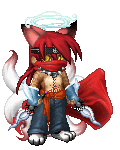 Last Login: 11/24/2009 1:36 pm
Registered: 04/24/2007
Gender: Male
Location: Canada, British Columbia
Birthday: 10/06/1990
Occupation: Student
Equipped List
Interest Tags
Favorite Movies/Anime
Favorite TV Shows
Favorite Reads
Hobbies/Interests
Wish List
Forums
Posts per Day: 0.35
Total Posts: 1219
My Playlist
You currently have zero playlists!
About
Hello, my name is Patrick but some call me Shadow, and I am 18 turning 19 in about two weeks. My hobbies are writing, reading, collecting swords, making friends, hiking, star gazing, and hanging with friends. I beleave my soul was born in the shadow of the moon. My favorit element are shadows and fire, and my favorit animal is the fox.
Journal
My Journal Enteries
Any thing I like to put down you will find.