About
What did you think I was going to tell you what they all were? xD
It doesn't really matter in the end just as long as you know I'm not mean and I don't bite. :3
Also I don't accept friend requests unless you talk to me a bit first. xD
I'm barely ever on so updating this is rarely done so you know. o-o
Anyway, no details unless you ask yourself, and only if I feel like telling. ;3
THESE ARE MY DREAM AVI'S. DONATIONS WOULD BE LOVED!
WORKING ON
Total Value: 701,714 Gold (total gold needed 477,148)
[Item Information]
Item List:
Deluxe Cat Ears
Inari\'s Beads 12th Gen
Trick or Treat Tote
Carol of Ol\' Ebenezer 2nd gen.
Kitty Slippers
Chyaku Norisu Scarf
Black Web Bustier
Those Black 90s Gloves
Black Fishnet Stockings
Soft Black Underwear
Anti Bite Mask
WORKING ON
Total Value: 1,962,227 Gold (1,267,204 Gold left)
[Item Information]
Item List:
Rainbow Neko Cosplay
Superior Form
White Drome Egg 2nd gen.
Romani Glasses
Actaeon\'s Blessing
Tomo\'s Basket
Tomo\'s Basket
Black Strapless Bra
Grizzly Hoodie
Those Black 90s Pants
Illogical Submission: Ha! We just caught you trying to add yourself to your own Friend List or Ignore List! Please seek psychiatric help for your strange self-esteem issues.XPXD
Becareful If you make a woman cry because God counts her tears.She came from the mans rib,not his feet to be walked on,or his head to be superior,but from the side to be equal,under the arm to be protected and next to the heart to be loved.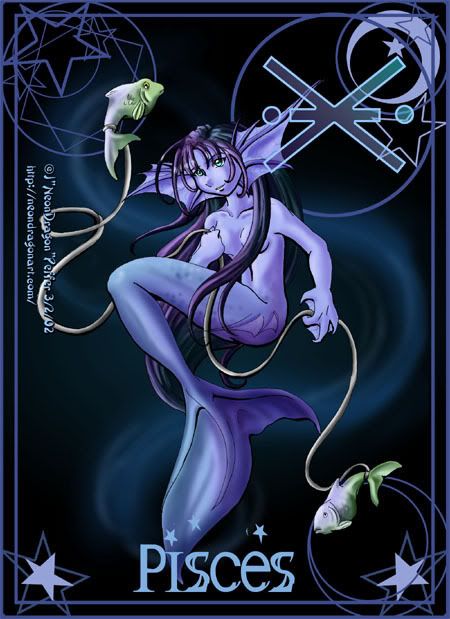 You are a Pisces! The Pisces person is playful, friendly, flexible, nurturing, free-spirited, romantic, happy, sensitive, mystical, enchanting, smart, emotional, reverent, creative, loving, spontaneous, wise, open minded, caring, devoted, liberal, humorous, understanding, tolerant, benevolent, self-sacrificing and artistic. They can also sometimes be distracted, detached, illusory, impractical, gullible, neglectful, escapist, lazy, erratic, undependable, self oriented, cold, aloof, mean, self centered, somewhat moody, fickle, confused, depressed, split-personality, irresponsible, goal-less, lack of motivation or push, and dependency issues. Your ideal careers are caring for the sick, needy and animals, religious, social workers, hospitals and institutions, poets, writers, actors, psychics. Your likes are Romance, Feeling appreciated, Freedom, Stability, Feeling needed, Mystical settings/enchantment, Being encouraged to dream, Sharing thoughts/dreams, Having their input valued, A role model, Being loved. Your dislikes are Feeling vulnerable, Feeling alone/unloved, Having no goals to project towards, Feeling invalidated, Being ignored, Crude/harsh behavior, Noisy scenes/displays, Having no dreams, Having no sense of structure. Physically, individuals born under the sign of Pisces supposedly tend to have large albeit dainty feet,long thin growth on head, heavy-lidded and liquid eyes, a tall stature, and a broad physique.Birthstones: Aquamarine and Heliotrope (mineral) Colors: Aquamarine, Purple, MauveGemstones: Amethyst, Emerald, Bloodstone, Moonstone, AquamarineMetal: Platinum, Tin Element: Water
Take this
quiz
!
Wow This is suprisingly accurate 0.o

You Have A Blue Aura!!The Life Purpose of someone with the core color of Blue is to show us how to love one another by being the nurturer, giver, comforter, caretaker, counselor, inspirer, uplifter, and/or cheer leader.Characteristics Of A Blue:Loving, Caring, Helpful, Patient, Nurturing, Supportive, Motherly and IntuitiveExcellent givers but not very good receiversThe most emotional of all the core colors; they can be brought to tears for no apparent reasonSpirituality and relationships are their two biggest prioritiesPeople often turn to Blues for consolation, advice or just to be lovedTend to attract people who need rescuing, especially in their intimate relationshipsTend to hold on to guilt and resentment when feeling unloved and unacknowledgedOften have a hard time saying noCan have difficulty letting go of relationshipsEasily put on weight because they often use food as a substitue for emotional fulfillmentEasily pick up on people's emotions and feelingsThey want deeply to be loved but subconsciously doubt they are lovableThey need to form a deep emotional bond with their partner before sex is satisfyingGiving, nurturing and devoted parentsThey are overprotectiveThey are prone to using guilt and manipulation to get what they want rather than asking for itAs children they try hard to please their parents so that they will be lovedThey often choose low-paying service-oriented jobs because they feel that people and love are more important than money, consequently they can struggle financiallyThe Basic Fear of someone with the core color of Blue is to not receive the same love, appreciation, and approval they give.Blues are drawn to work that allows them to be of service to people, such as in the helping professions. They are also drawn to healing and spiritual lines of work. Jobs that appeal to Blues are:NurseTeacherParent/HomemakerAstrologerMarriage and Family CounselorPsychologistPsychicNun/PriestWelfare WorkerHuman Resources SpecialistSocial WorkerChildcare WorkerVolunteerSpiritual Advisor
Take this
quiz
!
This is also very accurate as well 0.o
You Are 50% Boyish and 50% Girlish

You are pretty evenly split down the middle - a total eunuch.
Okay, kidding about the eunuch part. But you do get along with both sexes.
You reject traditional gender roles. However, you don't actively fight them.
You're just you. You don't try to be what people expect you to be.
How Boyish or Girlish Are You?
http://www.blogthings.com/howboyishorgirlishareyouquiz/

Take the Magic: The Gathering \'What Color Are You?\' Quiz.
Friends
Viewing 12 of 142 friends
Journal
If you click, you go somewhere! 0o0
{Enter witty description here ;D }
Multimedia