About
Hai.
Name: SeXbox. ;D
Age: 2 Dayum Old
Location: Tay-Hawss. [Texas]
Sexual Orientation: Strictly Dickly. <3 [Strait]
Piktorz:
[X]
[X]
[X]
[Pastyness is a b***h. DX]
My Crack-Cocaine
[Likes]
- Dexter
- Sharks
- Batman
- Kick Boxing
- Yoga [/Flexible] ;D
- Gaia
- Cold Weather
- Cats
- Polite People

Animal Abuse -
Stupid people -
Rude people -
Speed Limits -
Heat -
Cyber / RP [I do NOT do it.] -
Cybering / RP PMs. -
'Net Drama [It's just teh Internetz ppl. Srsly Get over it.] -
- Cracker's Thoughts -
Prejudice and Racism make life disgusting
Jealousy is just a negative form of Admiration
Hate takes too much Energy, and I'm too lazy.
- Sexy Sign[s] -
Desaccord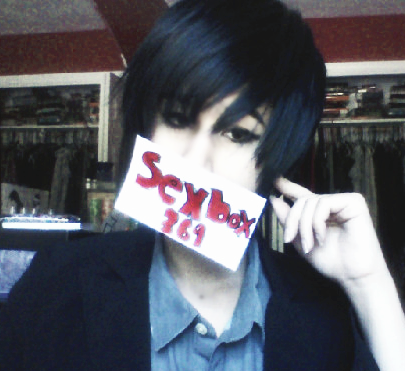 isyko339
Snackrifice
Da Chi
Gimme Moar? ;D
Friends
Viewing 12 of 41 friends
Multimedia
Signature
QUESTING: 100 DIFFERENT SPOUSES
Will you marry me?
Current Spouse: MyFavoriteStalker
[Looking to buy: Playful succubus PM if selling. <3]