What I'm Wearing!!
What I want but too broke to get!!
sesshysbabi424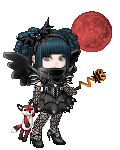 Last Login: 05/02/2014 2:10 am
Registered: 11/03/2006
Gender: Female
Birthday: 04/24/1992
Just A Little Bit About Me
There isn't much to say about me other than I'm currently in college majoring in Technical Theatre and minoring in Anthropology. I love to hang with my friends and occasionally get a few of them to play on zomg with me

So far I love college and I love the state I'm living in right now

What I like!!
Hobbies/Interests