Youmacon 2011.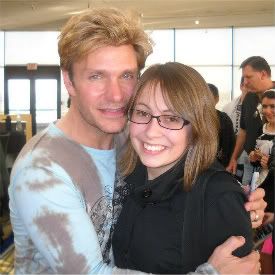 Me with Vic Mignogna!
Our Death Note Cosplay, Me as Light Yagami. We had an L but she didn't want to cosplay with us.
Our Ouran High School Host Club group. Same people as the last. My attempt at Tamaki...it was a last minute thing
JAFAX 2012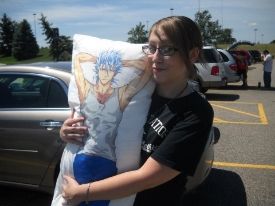 Didn't finish my cosplay for this one but it was still fun. Look at my sexy new boyfriend xD. It's funny cause my hubby bought me it.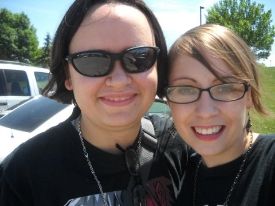 Dat's my besty CJ (Heavenly Edge here on Gaia). It was her first con.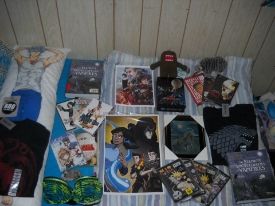 The spoils of war.
Youmacon 2012
I'm Aqua. The wig was rushed and I plan on getting a better one soon.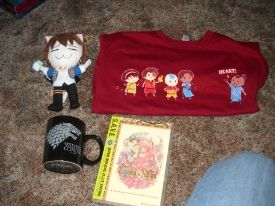 Made out like a bandit at this con. xD (love my Stark mug though, best for hot coco)
ColossalCon 2013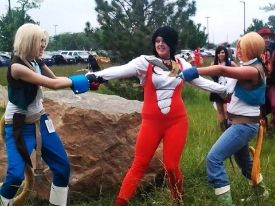 My friend and I as Zidane and Dagger from Final Fantasy 9. I was the Zidane on the right. Not bad for my first almost hand sewn cosplay, and I do mean HAND SEWN, no sewing machine here folks.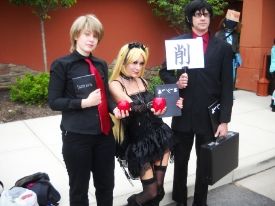 Me as Light Yagami from Death Note again. Found me a Misa and a Mikami so we HAD to take a picture together.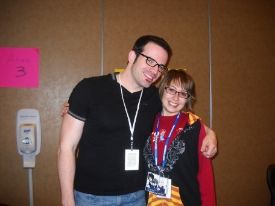 Me with J Michael Tatum (Voice of Sebastian Michaelis of Black Butler)! He was really nice and fun to talk to.
Youmacon 2013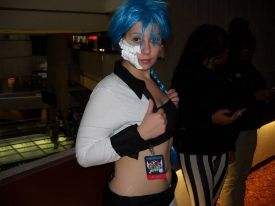 My Gender-bent Grimmjow Jeagerjaques. I wasn't even in the con more than 5 minutes and people were asking for my picture. I was really proud to finally be able to do this one. My six tattoo was on my back for over a week xD
My Light cosplay again xD. I was waiting in line for Brad Swaile (the voice of Light Yagami) 's autograph. Brad's a cool guy, we had fun and BS'd in the line. He sighed my Death Note and told me that my Light cosplay was fantastic.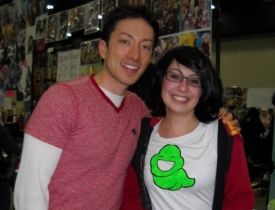 Me (as Gender-bent John from Homestuck) and Todd Habberkorn. I fan girled WAY too hard when I saw him in the Dealer's Room. I had gotten his autogragh earlier that day.
Acen 2014
My best friend CJ and I as Danny Phantom and the Box Ghost.
I met Crispin Freeman! AH! We weren't allowed to take pictures with him so my friends and I waiting in line figured we'd take each other's pictures while he signs our stuff. He was cool and was talking like the character he voiced while signing autographs (hence my fangirl face)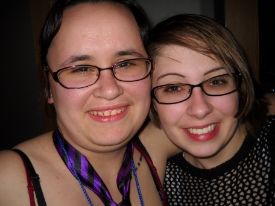 Getting ready for the rave! It was by far the WORST rave I've ever been too. Hoping next year will be better if I go
Colossalcon 2014
Found a some pictures of my Danny Phantom cosplay floating around tumblr so I took them xD (since I didn't get any of my self at this con) Gotta say it's defiantly one of my favorite cosplays to date.
My Genderbend John for Promstuck. It was fun and it took me back to the simple times of high school.
Johnny Yong Bosch....enough said.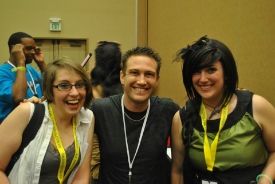 We had VIP passes so we figured we'd meet some of the other voice actors like Bryce Papenbrook. He does the voice for Kirito from SAO, Rin from Blue Exorcist and Erin from Attack on Titan.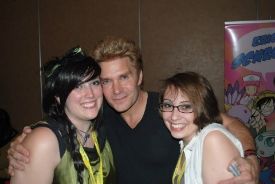 Yup, met Vic Mignogna again xD He gave us both kisses on the cheek. (Also do you love my wig hair?)
Youmacon 2014
My Danny again. This is becoming one of my favorite's to do.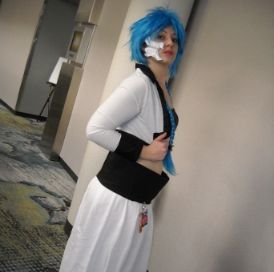 Finally got around to doing the pants of this one. Still need to finish the boots and maybe get a better wig but for now it's getting better.