About
Please don't send me random friend requests. Get to know me before you friend me

Heavenly Edge
is my sexy hoe
M A U R l C E
is a boss, among bosses
B A G T A S T I C
said she missed me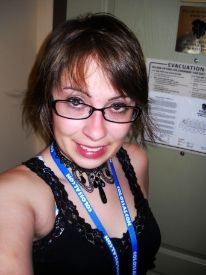 HI people of Gaia. My name is Chani but you can call me Serika or Seri-chan. I'm 23 years old and have been on Gaia since March of 06, still here because I have no life xD. I live in Michigan, a sad little excuse for a state. I'm a college student learning the art of film. That's right, one days I'll have my name on the big screen and or fall into a depression and film porn. Either way's money in my pocket. Ha!
I like to do many things, drawing is obviously one of them. Probably been drawing for about eight years now and if anyone has seen my previous work they'd know I've improved in those years. Here is my
deviantART
//
Art Shop
//
tumblr
I also really love to get avi art from the people of Gaia. I've gotten over 100 pieces since I've been here and I love getting more. if you're interested in seeing it check out me
Avi Art Collection
I'm also a big video gamer and love to play games like Final Fantasy, Kingdom Hearts, Red Dead Redemption, Dead Space, Elder Scrolls, Dragon Age, Assassin's Creed and a few others. My PSN is I-Serika-I, hit me up some time. I'm also a huge trophy whore even though I suck at getting them most of the time.
I watch Anime and Read manga, not as much as I did in high school, but if I find a good series I'll sit done to watch it. I've seen at least 50 different series.
[My Anime List]
Feel free to check out the one's I've seen and suggest new ones for me to look into.
I'm a pretty nice person once you get to know me. I like to help out my friends when they need it and am pretty good to get along with. I'm lazy and laid back, but can get excited real easily. I only act like a troll in the CB. Just don't piss me off. I don't like it about myself but I do tend to hold grudges. I probably won't forget about it....so just don't do it okay.
I'm a big Cosplayer and Con-goer. I do a combination of buying my cosplays and making/modifying them and love it when they turn out right.
[In order from Oldest to Newest]
Youmacon 2011.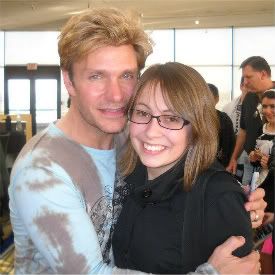 Me with Vic Mignogna!
Our Death Note Cosplay, Me as Light Yagami. We had an L but she didn't want to cosplay with us.
Our Ouran High School Host Club group. Same people as the last. My attempt at Tamaki...it was a last minute thing
JAFAX 2012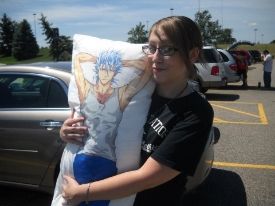 Didn't finish my cosplay for this one but it was still fun. Look at my sexy new boyfriend xD. It's funny cause my hubby bought me it.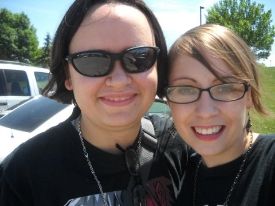 Dat's my besty CJ (Heavenly Edge here on Gaia). It was her first con.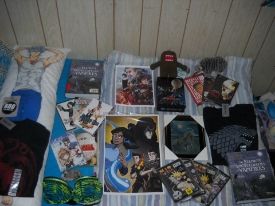 The spoils of war.
Youmacon 2012
I'm Aqua. The wig was rushed and I plan on getting a better one soon.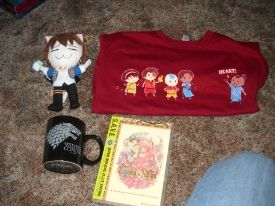 Made out like a bandit at this con. xD (love my Stark mug though, best for hot coco)
ColossalCon 2013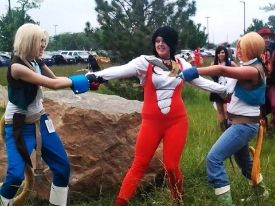 My friend and I as Zidane and Dagger from Final Fantasy 9. I was the Zidane on the right. Not bad for my first almost hand sewn cosplay, and I do mean HAND SEWN, no sewing machine here folks.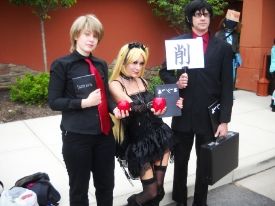 Me as Light Yagami from Death Note again. Found me a Misa and a Mikami so we HAD to take a picture together.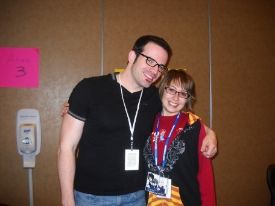 Me with J Michael Tatum (Voice of Sebastian Michaelis of Black Butler)! He was really nice and fun to talk to.
Youmacon 2013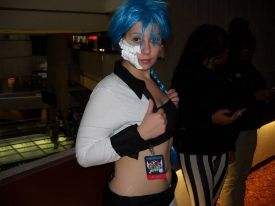 My Gender-bent Grimmjow Jeagerjaques. I wasn't even in the con more than 5 minutes and people were asking for my picture. I was really proud to finally be able to do this one. My six tattoo was on my back for over a week xD
My Light cosplay again xD. I was waiting in line for Brad Swaile (the voice of Light Yagami) 's autograph. Brad's a cool guy, we had fun and BS'd in the line. He sighed my Death Note and told me that my Light cosplay was fantastic.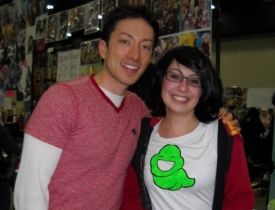 Me (as Gender-bent John from Homestuck) and Todd Habberkorn. I fan girled WAY too hard when I saw him in the Dealer's Room. I had gotten his autogragh earlier that day.
Current Convention: Acen 2014/Colossalcon 2014
Cosplay Progress
Danny Phantom - Danny Phantom - Progress: 80%
Danny Fenton - Danny Phantom - 40%
Celty Sturluson - Durarara - 20%
Mikasa Ackerman - Attack on Titan - Progress: 55%
If I Have The Time/Money
Lelouch vi Britannia/Zero - Code Geass - Progress: 20%
Irma Lair - W.I.T.C.H. - 0%
Completed Cosplays and Taking With
Light Yagami - Death Note
Anyone wanna give me cosplay idea or tips, comment on my profile and or PM me!



Drawn by me





This is the novel I've been trying to write for the past eight years. It's still very new, and I add things about it all the time. Below is a small summary of the story, character bios, and even chapters. Subscribe to my journal for updates if you're interested.

This story takes place in the present day, and revolves mainly around the life of a young Japanese-American girl named Serika Hiroshima. The main idea of the story is how she not only has to deal with the day to day job of a normal teenager, but with the new life that is forced upon her; vampirsm. She meets a 200 year old vampire, Rikonu Takora, who takes here away from her comfortable teenage life, and throws her into a demonic war. This war was started over the invention of a vampiric drug, that would allow vampires to walk into the sun unharmed. Serika, at first, rejects and even hates her new life. She ignores the powers she has been given and refuses to drink blood, later causing her great problems But with some help from her new master, a forgotten experiment, and a couple escaped demons, she overcomes all doubt and fights for what she soon believes in; love.

To read more about the story, or to learn about the individual character, visit the pages below.

Serika Hiroshima Rikonu Takora Eliabeth James Gin Turukashin Gigi Turukashin

If you would like to read the story in the making here are the rough previews of each chapter.

Chapter I Chapter II Chapter III Chapter IV

Chapter V - Coming soon



Journal
A Novel in Progress
Thoughts on Paper
Whether its entries about my life or parts of my novels, whatever I feel needs to go in here will. Sometimes others can read it, sometimes only friends, and then there are times when only I will glance upon it.
Multimedia
Signature
QUOTE ME. Or I'll never reply.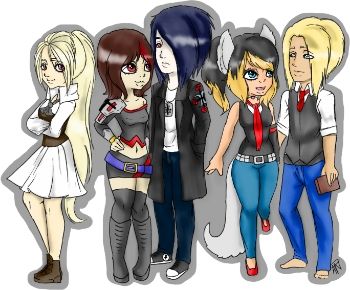 Draw My OCs?
OC Request Thread

23 // Bi // Married // Cosplayer
devieantART // tumblr