Serenitybunny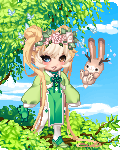 Details
Last Login

10/20/2014 9:43 am

Member Since

11/04/2004
Location

Somewhere far and far away... XD

Gender

Female

Birthday

04/13
---
Interests
Favorite Movies/Anime
Favorite TV Shows
Favorite Reads
Favorite Music/Bands
Hobbies/Interests
About

With you, my kitty cat Cody (AKA CaptainPhantom)!
konnchiwa,
teehee..Ogenki ka? [how r u?] hmm...just remember:



"Life is beautiful no matter how you look at it and you understand that people make mistakes, not everyone is perfect."






*~Serenitybunny~*

P.S. -> Sometimes, I change my profile's layout, but DO NOT STEAL MY LAYOUT because it is rude! I have taken time and effort to design, plan, and create my unique layout! If you want your Profile's layout, please, go here:
TekTek



Link/Patch me:




Code:
[url=http://tinyurl.com/f2f5b][img]http://i1.tinypic.com/ndome0.jpg[/img][/url]
My favorite profiles/quilts are:







Journal
Serenitybunny's Gaia Weblog
is about my emotions and wondering... on my RL and on Gaia... sort like a diary..=P
Multimedia
Signature


"If time can stop just now, then this moment will be forever..."
~The Phantom Guild Presents~
The 2014
HALLOWEEN ART CONTEST