Serenity Wicked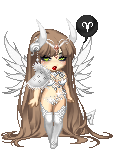 About

Hello, there.

I'm not fond of my real name; so you can call me Serenity or Wicked. I'm 22 years old and have been playing here on Gaia since I was 15. If you want to know more about me, then ask away. I like chatting with people.

Common:
Sense, courtesy, decency and kindness are called
common
for a reason.
I'm generally an easy-going person but if you're amongst the ignorant ones that think rudeness, hate-trolling, unintelligent rants and spouting grammatically incorrect obscenities is fun because all you have in life is being a d**k to someone over the
internet
-- then you have no business on my page. I do not like quarreling or arguing with brats (
regardless to how old you are or say you are
) over ridiculous subjects. If I ignore or block you then I'm sure you gave me a good reason to -- like just being a miserable little troll with too much time on their hands.
I will tell you that I am an avid music lover that listens to a plethora of different genre's; hard rock, classic rock & metal being my favorite's. My goal is to eventually take guitar lessons

because my poor Ibanez is collecting dust. I'm an admitted otaku that loves good anime and manga. I role-play here on occasion just for the hell of it; whether it be original or fictional. Sweet's and tea are my obsession. People watching on Gaia is fun. I am also a ninja that collects blades.

My best irl friends are "A Winter Symphony" and "La Petite Bunny" whom I've known for seven and eleven years respectively. If you have an issue with them, then you're going to have an issue with me.
During Gaia event's when you have to choose a town as your team: You will see me on team
DUREM
. I've been a Duremite since 2007 and that will never change.

I do play zOMG and am usually in the Brain Clam or Bladed Vase servers. If everyone is just staring at each other I will lead crews in the Shallow Sea's for smob. I'm not comfortable with leading smeb yet. Depending how I switch my rings I am CL 12. I only tank/aggro when I have to. Tip's and advice are always welcome, but know-it-all critics that play way too much that bash instead of helpfully correcting can find the nearest phallic object and insert it in their rectum.
Friends
Viewing 12 of 177 friends
Journal
My Wickedness.

This journal will only contain my role-play rules & information, character bio's and possible story plot's.
Multimedia