Wish List
Signature
"Higher ground simply means deeper waters. Learn to swim or drown with the rest."

My Deviantart Page
Sepren Maelstrom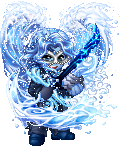 Registered: 10/08/2004
Gender: Male
Location: Sad thing you propably won't know.Will my place in Towns do?
Equipped List
Interests
Favorite Movies/Anime
Favorite TV Shows
Favorite Reads
Favorite Music/Bands
Hobbies/Interests
About
I'm Sepren, though some can feel free to call me Sep [I'll let you know]. Offline name is irrelevant and unimportant so we'll skip that, 'kay? What about me... I'm fairly laid back, despite my periodic rants. I'm "with the humour" in that I attempt being funny a lot. Sometimes I succeed. I can get pretty sarcastic too, so don't mind that.

My semi-retired RP character is an Ethereal. He is half Dog and half Water Elemental, a fan of blades, a user of Void Manipulation & Materialization, and a proud smartass. I like to be difficult.

Please don't send random friend requests or PM me begging for anything. It does not please me.
Guilds