Semo Le Strange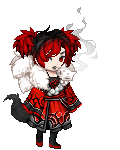 Last Login: 10/12/2015 9:33 pm
Registered: 07/15/2008
Gender: Female
Birthday: 07/15/1989
Occupation: Writing?
Interest Tags
Favorite Movies/Anime
Favorite TV Shows
Favorite Reads
Favorite Music/Bands
Hobbies/Interests
Wish List
About
My name is Taylor. I am 21, I turn 22 in July. I live on the East Coast, in the beautiful Blue Ridge Mountains, Virginia has been my home almost all my life except for a few short stints in California.

Things I love:
My cat Tori...she's soooo adorable :3
My rat Mina (she'll be getting a friend soon)
My sisters cat Babs
My dogs Jake and Jasper
Purple
Sleeping
Anime
Manga
Anything Harry Potter
Anything Sherlock Holmes
Vampire Diaries is the s**t

I am in University so my muse lacks sometimes because it drains my energy with me working as well. I am going to get my degree in Child Psychology so I can work as a counselor in Elementary Schools. I am also getting a minor in Creative Writing, and I am currently working on a book.
Signature
Caution: Small children will be eaten.