selenia50150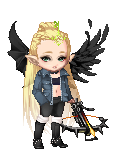 Last Login: 08/10/2016 2:02 am
Registered: 02/02/2008
Gender: Female
Birthday: 04/15
Wish List
Journal
My Journal
my thoughts , my feelings , Random thoughts I have while being in Character I will put them all down here . basically Everything from RL to RP .
Interest Tags
Favorite Movies/Anime
Favorite TV Shows
Favorite Reads
Favorite Music/Bands
Hobbies/Interests
About
Greetings!

A little personal info:

I am 27 years old and I got to college,.I am a Fine Arts major and I love watching Anime and other types of fantasy.What can I say I'm an Otaku .I Especially love old movies an music.I love to Role play . anything really from Elfs to vampires an so on.I love reading books an playing online. I have read the Lord of the Rings series.(side note fan girl Squee for Legolas) I do like wolves too.

I don't not like Drama So Don't bring it to my page . Also Don't mess with my friends I greatly Dislike that. I will Protect my friends even from themselves if need be. To most of my friends They Call me

Mama Wolf

, Because of the way I act. I do love meeting new people and making friends . Another thing you should know is I a fiercely loyal to my friends, I would go thru hell and high water for them. But, there is only a few ways I would no longer be friends with a person. that I consider unforgiveable , I will block and delete you from my life without hesitation , I have done it before I will do it again don't think I wont.

I am Highly Passionate and stubborn to the extreme, You can ask any of my friends that . I don't trust easily so don't expect much when we first meet. I'd rather help my friends and put my thoughts aside , I do keep much to myself being a somewhat privet person. I love most kinds of music , with the exception of Screamo, rap and a few others things . other then that it's all good.

For my friends I am many things or atlest try to be sister, best friend , Confidante, A shoulder to cry on or a ear to vent to . I'm a good listener again or so I try to be . I don't like seeing anyone I care for in pain and I will do what I can to make them smiles if it means me being a dork . I do write Poetry sometimes. Which is always posted to my Deviantart among other things .

*Important : please do not add me just so I can fill a spot on your friend list.
* I am an Ares
That's all I want to share! If you want to know anything Eles Contact me
Bye !

My Playlist
You currently have zero playlists!
DEATH AWAITS THE OVERCONFIDENT !!!
Drawn by Samhain Shadow