My Car
My Aquarium
Equipped List
Wish List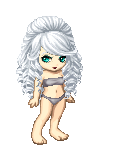 Birthday: 12/12
About


Introduction to Me


Age:
22
Birthday:
December 12
Gender:
Female
Sexual Orientation:
Lesbian
Relationship Status:
Single
Other Basic Information:
My name is Ellen, I'm a pediatric nurse and I live in Florida. I love going to the beach, I love the ocean. My favorite animal is sea turtles. I have a cat named Jack, I also own a goldfish named Klaus. I like a large variation of music with the exception of country, I hate country music. I have an interest in mythical creatures and legends for example(s): Kuchisake-onna, Slender Man, Bloody Mary, Pandora's Box, etc. Favorite food is cheese burgers

favorite dessert chocolate covered strawberries

.

Want to know anything else just ask.
Signature
Forums
Posts per Day: 0.01
Total Posts: 4