SeaJewel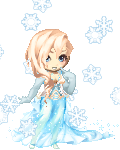 Details
Last Login

11/05/2016 9:28 am

Total Posts

5370

Posts Per Day

1.17

Member Since

05/05/2004
Location

Missouri

Gender

Female

Website
---
Interests
Favorite Movies/Anime
Favorite TV Shows
Favorite Reads
Hobbies/Interests
About
Yo! I'm (like many) an aspiring voice actress who makes costumes, draws, writes, goofs off, etc. Nice to meet ya!
Friends
Viewing 12 of 29 friends
Journal
Sea's Journal of Wisdom (Maybe)
Entry and/or comment(s) as written by:
Um it's my journal. My rules. They'll change. Say whatever you want, but don't goof off too much unless I know you pretty well or I'll end up taking the wrong comment seriously and that's never pleasant.