Seabook Arno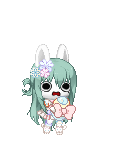 Details
Last Login

04/15/2014 6:17 pm

Member Since

03/24/2005
Location

Cali

Gender

Female
---
Interests
Favorite Movies/Anime
Favorite TV Shows
Hobbies/Interests
About

Was Clone Xi on TinierMe

Art by Misirable


Sylux is my homeboy!


Shiny Pokemon hunter .w.;;
Don't mind the Avi, i'm really a guy


My cow! Click and be amazed!
Current quest:
Friends
Viewing 12 of 260 friends
Journal
ZOMG! LEGOS!!!
Because Lego>everything
Signature
Was Clone Xi on TinierMe
NNID: Crunkcase
3DS FC: 1633-4289-8062
Animal Crossing & Pokemon X name: Len
Friends list is full o.o
Thank you annon for Butter the Kitten!