About


Disclaimer: Please don't assume this profile has been updated in the last...four years-ish.

'Ello, poppets. Welcome and so forth. Not much to say that I could squeeze into this thing. I'm obsessed with epic music, reading, anime/manga, politics, and history. No joke. I play the piano and occasionally write decent songs, as well as dancing and singing in a couple of choirs. I also collect "fail" pics. I'm currently obsessing over

Soul Eater, Good Omens,

and most recently

Axis Powers Hetalia.

Gah, I hate profiles. Just remember that you can never judge a book by its cover. Or a bookworm. LAWL I'M SO CLEVER.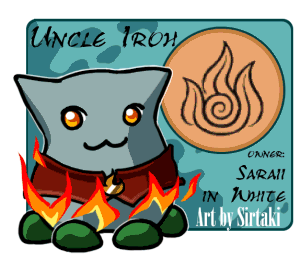 Apparently I am also now in possession of a "noodle," the fascinating little creature above.




'Tis my true form, truly.

...No, really.

Friends
Viewing 12 of 64 friends
Journal
Just a Little Story by the Fireside...
If you are a dreamer, come in...
Welcome to my little world. This is basically where a few random thoughts may or may not go, depending on if I overcome my chronic laziness. Everything from poetry to stories to laughter to tears; think of it as a scrapbook of life...sorta.
Signature