Scorpian, or a reasonable facisimile.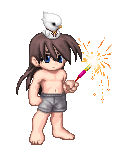 Registered: 10/24/2004
Gender: Male
Location: USA
Dumb Gaia Vehicular addon
A Place to put all my s**t, on Gaia.
Like you really can get to know me by reading this....
Alright so. First off, don't PM me asking to be your BF >.>I live in Texass..but make NO mistake that is Not where I am FROM. I was born and Raised in New Jersey and that is where my heart lies ( and no NOT North Jersey aka South New York, but South Jersey just outside of Philadelphia, to be precise NJ Turnpike exit 5 - Mt Holly) I'm pretty easy going and have a British-esque sense of humor. Monty Python especially appeals to me, don't get mistaken as Beavis and Butt-head's brand of low brow humor does also. XD I love the 80's music alot..they were so much more original......BUCK FUTTER! lol
a** Kissing Gift Ideas.
Things is somewhat give a s**t about.
Favorite Movies/Anime
Favorite TV Shows
Favorite Reads
Favorite Music/Bands
Hobbies/Interests