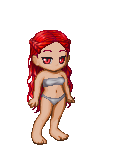 Gender: Female
Birthday: 04/19
[ Comments ]

My name is Richetta, I'm nineteen years old.
I'm taken by the most amazing guy, we've been together for 8 months.
I'm a softlines merchandiser at a certain store, nothing special lawl.
I love music, mostly rock and metal. not a fan of rap at all, sorry.
I find tattoos and piercings very hawt, hoping to get a tattoo soon.
I enjoy animals, nature and food. I have two cats and one dog.
I guess there's nothing else to type here, hope you enjoy my profile.
have a good day gaia members, thanks for visiting c:

Love? We think about it, sing about it, dream about it, lose sleep worrying about it. When we don't have it, we search for it; when we discover it, we don't know what to do with it; when we have it, we fear losing it. It is the constant source of pleasure and pain. But we can't predict which it will be from one moment to the next. It is a short word, easy to spell, difficult to define, impossible to live without.