Savvi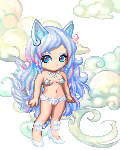 Last Login: 07/27/2015 6:34 pm
Registered: 05/29/2004
Gender: Female
Location: with Hana.
Birthday: 10/09/1990
Occupation: Tray Passer at the Hospital
In Case you want to know...
-ABOUT ME-
I am a girl
I am a daughter
I am not religious
I am an older sister
I am a Cat owner
I am barely an adult
I am a Bisexual
I am filled with hate
I am a grudge holder
I am a dog lover
I am a Star wars fan
I am hypocritical and a contradict
I am a bully
I am a loner
I am a resident of the USA
I have many friends
I hate social places
I hang out at the mall
I am an animal lover
I am Sadistic
I have a huge heart
I am a person
I'm a Liar.
_________________________
Don't Judge Me.
_________________________
-THE BASICS-
Name: Savvi
Age: 20. I now feel old

Status:Happily Taken
Religion: Agnostic
Smoke / Drink: No / No
Favorite Colors: Purple, Green, and Pink
Current Mood: Tired
I Love love love Star Wars, and Indian Jones For one simple Reason: Harrison Ford.

Canines are my passion, Although I love all animals.
Supernatural= FTW (( thank you Rikku. v.v))
I know there's not much right now, But I can't really think of anything right now... oh well.